Have you ever wondered how search engines are able to find your site when keywords related to your website are searched? That's your sitemap at work.
Sitemap is a page that lists all of your website's pages in one place. It acts as a directory of the content on your page, and it organizes the links to the documents and files on your page in a hierarchical manner. Looking at a website's map is almost equal to looking at a book's table of content.
The Purpose of a Sitemap
A sitemap offers anyone who's trying to navigate your site a direction, kind of like what all maps are supposed to do. Search engines use bots that are called spiders. These spiders' job is to collect data and content before storing it in the search engine's database when specific keywords are searched.
The purpose of your sitemap is to direct these bots to your site and the keywords that would have entered into the search dialogue box. A sitemap is an essential first step when you're trying to improve your website ranks in search results, there is a process that is also known as search engine optimization (SEO).
Since your sitemap already has your site's contents listed, together with the links, it'll also prove beneficial to users who visit your site. They might use the sitemap to navigate between pages and search for specific content.
Tips for Creating your Sitemap
If all this sounds too technical and you're thinking that designing your sitemap needs you to be some kind of a tech-guru, then this article is for you. You can design your own site by using either WordPress or Wix. If you want to know the difference between the two, browse this site. After knowing the difference, make sure to add these few tips to your checklist.  
1. Define your Goals
Your site isn't just a representative of your business but also an arm. Because of this, it should be seen to act in line and towards the accomplishment of your overall business marketing goals.
Set out from the onset what you intend to achieve in your business. This will direct your website's primary function. Once you have this figured out, you could then know which keywords, pages, and type of content to prioritize.
What action do you want the person who's visiting your platform to take? If you have a clear answer to this question, use it to build an equally clear map that can be used to navigate your website
2. Factor to Consider About your Site Architecture
Now that you know your business's goal and the people who will visit your site, you may now start to work on your site's architecture. What do you want to be the correlation between pages and all other areas of your website?
Have the user's experience in your mind as you structure this? You want a visitor in your site to reach their goal between your site's pages. How will you make it easy and efficient for you? You have to decide what is the central function of your website.
3. Define the Page and Content Relationships
How well you rank on search engines is determined whether you ensure your pages doesn't have any duplicate content and that it's well organized. Flow is a crucial part in defining what content should be included on your website.
4. The Sitemap should be linked only to your Homepage
By linking your sitemap to your homepage, you'll be sure that the spiders can start searching and collecting data from your homepage down to all the other pages. This will make sure that no page is left unvisited.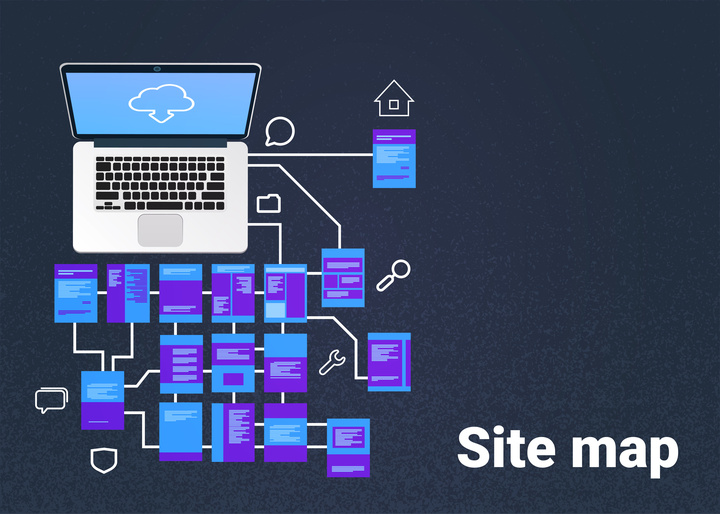 5. Limit your Pages to 30
You shouldn't overdo the pages on your site. Your page might be confused for a link farm, plus the links might get overcrowded and become tiring to view.
6. Double Check all links on your Sitemap
Check to see if all the links on your sitemap indeed lead to the content that you intend. A user shouldn't click on a link that leads to nothing or to the wrong page. So, double-check all the links.
7. Make your Sitemap links Keywords-rich
Giving your site keyword-rich titles improves their searchability significantly and also makes sure they are searched under the correct category.
Conclusion
Designing your sitemap isn't a difficult job if you follow all the necessary steps. It's a job you can do yourself if you've got the time, but you could also pass it on to a professional.
An excellent sitemap design will pay attention to your organization's goals so that you can optimize your site through your sitemap to perform well. To end up with an efficient sitemap design, you should consider to start by following all the steps outlined in this article.